When Claire and I headed state-side to go wedding dress shopping, we also planned to look at shoes. Having never set foot in Louboutins, I wanted to at least put them on, even if it was unlikely I'd buy them. I had always thought I'd buy a pair of wonderfully decadent shoes for my wedding day, but now that the day is a reality, the budget just doesn't allow for that kind of luxury buy. While looking at all the beautiful Manolos, Louboutins and Jimmy Choos, we both spotted a beautiful peep-toe pump on a display stand far inside the shoe area of Nordstroms. Completely silently we both bee-lined straight for the exact same shoe! Laughing, we looked at eachother and said "that's the shoe". It's truly a work of art – by a designer I had never even heard of, Rene Caovilla.
Honestly, have you ever seen anything so beautiful? The pearls look like they're floating on your skin through the mesh, and the crystals that frame them are sparkly and bright. Needless to say, I was in (shoe)love. Which is why I was slightly devastated when I turned the shoe over and saw the pricetag on the sole: $1,275. That's the same price as the dress I had fallen in love with on that trip – and even though the shoes would be the more practical thing to spend that kind of money on (if at all) since they have the potential of being worn more than once, I just couldn't.
Which is when we had the brilliant idea to make our own – or rather, a version of them. So using these beauties as inspiration, I set about to find a base-shoe to work off of.  Since the only thing I wished the Rene Caovilla's had was  more height (I wanted 6″ so that I could actually kiss the mister without him bending over like we usually do since he's 6'4 and I'm 5'0), I set my sights on finding a platform pump.
I tried contacting the people at Shoes of Prey to have them customize shoes for me, but they said they couldn't do what I was asking for. So I scoured Amazon, eBay, DSW and every other shoe site I could think of to find white lace platform pumps. I eventually found the perfect pair at Light In The Box for $60 (though right now they're on sale for $30, which has me slightly miffed). I ordered them, and patiently awaited their arrival. When they arrived, DHL had slapped a gigantic customs fee on them, so they ended up costing me closer to $85 when all was said and done (so learn from my mistake and make sure you 'self clear' the package through customs since DHL adds 'handling' fees).
While I waited for the shoes to arrive, I amassed a few adornments that I liked. I found pearls similar to the ones on the Rene Caovilla's at Michael's, and even some beautiful flat back swarovski crystals that twinkled beautifully. At the dollar store I found some rhinestone 'tape' of sorts, and picked up some pretty paper flowers. I didn't know what I'd be using in the end so I grabbed all these things and figured I'd see what worked.
Using my favourite glue – the E6000 that will stick anything on anyithing, I set myself to work.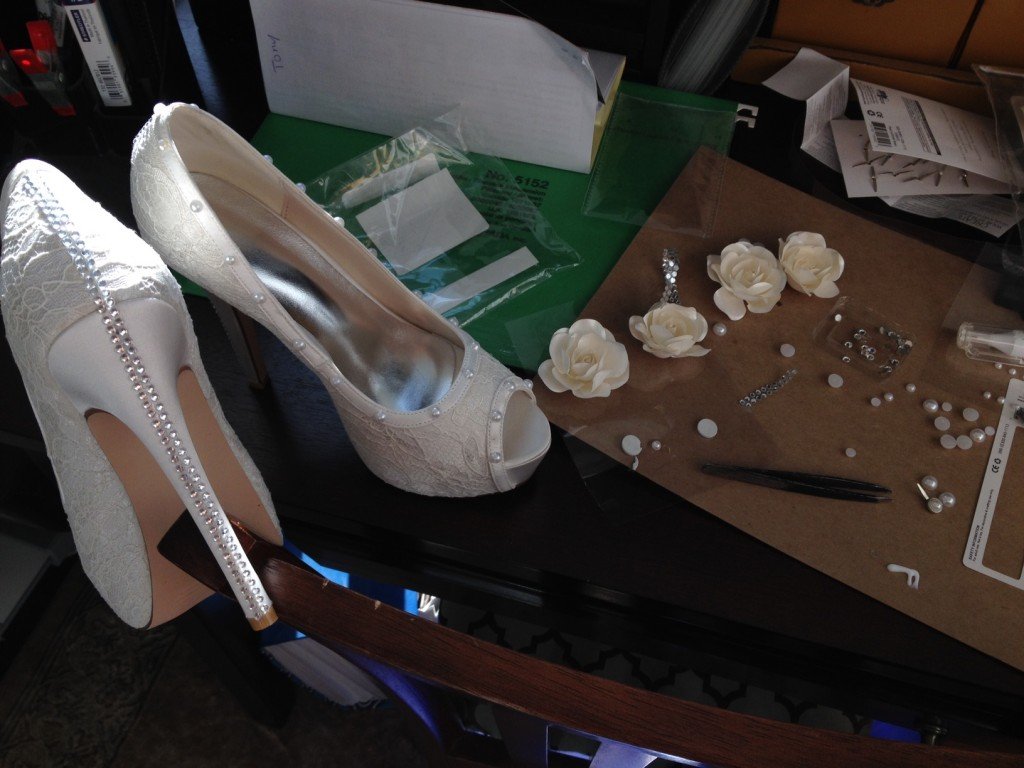 I'd love to tell you there was some scientific process – or even that I measured things out. But that's not how I usually go about things and this was no different. I eyeballed everything, placed things and removed them to see how I liked the look. The little pearls had sticky backings so I stuck them in the place I thought they should go and did a little re-adjusting. Then I glued everything down.
I didn't end up using the flat back swarovski's, or the flowers. I just used the pearls and the dollar store rhinestone tape for the back heel. I tried placing the crystals but it just looked 'too much', and the Mister agreed with me so I let them be.
When everything was done I was left with these beauties. They're not as beautiful as the Rene Caovilla's from which I drew inspiration, but I love them all the same, and they cost me less than $100 – which seems much more reasonable. Plus they're one-of-a-kind!